You are cordially invited to DANCE YOURSELF ALIVE!
a day of rejuvenation, growth and empowerment through dance, movement and breath. No experience necessary for this enjoyable and transformational one-day retreat.
It will take place Saturday January 25th (snow date Sunday January 26th) at the IxChel Center, 23 Wilson Street, Hartsdale, NY 10530 from 9 AM to 4 PM.
During our time you will:
Wake up your life force energies
Discover the pendulum as a powerful tool to access spiritual truths (pendulum included)
Learn the art of meditation through movement
Release negative patterns of thinking and free hidden transformative powers
Transcend limiting beliefs to embrace your greater potential
Become a more powerful healer for yourself, loved ones and others
ALL THROUGH INTEGRATIVE MOVEMENT, DANCE and MINDFULNESS
Be prepared to change your life! Come dressed in comfortable clothes. This program is for men and women interested in both personal growth and professional development. What you cultivate in this retreat has a ripple effect. You'll learn practices to use for the rest of your life!


Cynthia Chase is a psycho-spiritual therapist for over 30 years, a Reiki Master and teacher, and founder of the integrative practice called Reiki Fusion. She is an author and visionary and is excited about conveying her knowledge of Eastern thought, Yoga, movement and intuitive mindfulness through this course. Please register at cynthiamchase@gmail.com by providing your name and contact information.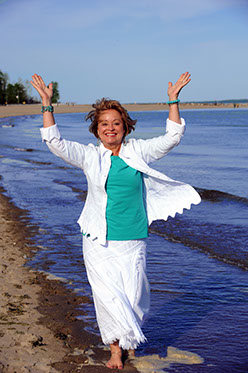 What the practitioners say about their experience?
I was ecstatic! It was the greatest experience I've ever had in my life. It was a magical weekend filled with love, compassion new friendships and a re-defining of myself. I learned tips to take home with me so I could keep on growing! It was a fantastic weekend and I thank Cynthia and everyone who attended, from the bottom of my heart. I highly recommend her and the work she does.
I felt open, aware and intuitive. More in sync with myself as we progressed through the activities. All of the activities and lessons felt like an organic progression of materials and knowledge, culminating in the Reiki Fusion sessions. I was excited to see everyone's energetic awareness expand in front of me, including my own. I felt as if everyone "leveled up" together.
"Dance yourself Alive" was a beautiful and much needed time out and a day of self care. Who knew that a gathering of strangers would turn into a meeting of friends. Thanks Cynthia!"xoxo CL
What a wonderful day. In deep connection with myself and others, it was truly an experience of mind, body and soul. Thank you!
I was very happy to be part of such an eclectic group of people from all walks of life. I found it refreshing and up-lifting. I didn't know what Reiki was and I learned about the importance of having all seven Chakras open. Cynthia is a great facilitator. Looking forward to coming to another retreat!
This was a gentle supportive and loving day. It was an environment for spiritual growth. Those who came had an open heart and a loving spirit. The experience helped me to continue to process the healing energy that is within me.
From my inner child - a smile that holds a secret in that she is getting ready to bring her creative self into the world getting ready to dance, paint, to compose lots and lots of music. From my grown up self: gratitude for bonhomie and a sense of distance covered, of being more in my wisdom. Cynthia is lovely!
I opened myself up to a new experience. I was afraid at first but I now understand the value of journeying beyond my limitations. Thank you Cynthia!
The Energy Retreat was a beautiful experience. It was a day of peace and spiritual awakening. I was joined by a group of fantastic women and one man from "all walks of life." This was a day of magic for me!
This has been a great day for me. I came with the idea that it wasn't really for me, but happily I have found that it has helped me immensely! It has released my anxiety and given me a sense that some of the 'weight' I have been carrying around is re-channelled into a positive energy flow. Thank you!