• My Story
• First Installment - Dr. Burrascano
• Second Installment - Collateral Conditions
• Third Installment - Clinical Diagnosis
• Fourth Installment - Checklist of Symptoms
• Fifth Installment - Summary of Treatment Guidelines
• Sixth Installment - Nutritional Supplements
• Last Installment - Lyme Disease Rehabilitation
• Lyme Support Group Information
• Bio Resonance: E-Lybra; The Home of Quantum Medicine.
The Rife Machine is growing and coming of age. This treatment is not allowed in the United Stated. It is offered all over Europe and in Canada. For a referral please contact me. Please review the following articles about Victor Sims and his incredible accomplishments in treating physical, mental and psychological imbalances.
Detoxification
• Detoxification protocol for use with Antibiotics and Rife Treatment
• Dandelion Tea for Detoxification
• Psychiatric Implications for Lyme Disease / Dr. Robert Bransfield
• Lyme Disease and Mental Health
• Summary of work of Dr. Dietrich Kinghardt / Lyme Disease
• Featured articles by Dr. Jessica Sedita regarding Vibrational Medicine
I recommend for consideration
Harold Chandler Clark, MD | Harold Chandler Clark, MD
Address :
400 Webster Avenue
New Rochelle, New York
Phone: (914) 235-8385
Harold Chandler Clark, MD, maintains his own practice based out of New Rochelle, New York. Originally receiving his education in Bologna, Italy, Dr. Clark has the distinction of being fluent in Italian. As a well-versed internal medicine physician, Dr. Clark has also been practicing nutrition, ozone therapy, and oxygen therapy within his practice. Ozone therapy is an alternative medicine treatment that claims to increase the amount of oxygen to the body through the introduction of ozone into the body. Aside from tending to his patients, Dr. Clark speaks regionally on his fields of expertise, and is an attending physician for the Montefiore Medical Center as well.
His innovative approaches offers hope for the Lyme patient by helping the body enhance the immune response. Brilliant and kind.
Lyme Disease Links
• Lyme disease sufferers devastated by federal government's action plan NEW
• Touched By Lyme: Like beating my head against a fog wall
• Visiting physician sheds new light on Lyme disease
Here is a fantastic article about Dr. Nevena Zubcevik. I find it full of great information and it is so validating to those of us who have otherwise been dismissed and marginalized.
• Institute for Ayurvedic & Naturopathic Therapies
• Physician's Round Table 2012
• An Introduction to RIFE Technology
Frank Shallenberger, MD, HMD
Presents cutting edge and comprehensive information that is a must for all Lyme sufferers. He expands our knowledge about a holistic approach to Lyme treatment exponentially
From The Nevada Center, Inc.
Carson City, NV
Bite Me:
How Lyme Disease Stole My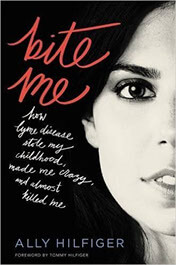 Childhood, Made Me Crazy, and Almost Killed Me Hardcover –
by Ally Hilfiger (Author), Tommy Hilfiger (Foreword)
Ally was at a breaking point when she woke up in a psych ward at the age of eighteen. She couldn't put a sentence together, let alone take a shower, eat a meal, or pick up a phone. What had gone wrong? In recent years, she had produced a feature film, a popular reality show for a major network, and had acted in an off-Broadway play. But now, Ally was pushed to a psychotic break after struggling since she was seven years old with physical symptoms that no doctor could explain; everything from joint pain, to night sweats, memory loss, nausea, and brain fog. A doctor in the psych ward was finally able to give her the answers her and her family had desperately been searching for, and the diagnosis that all the previous doctors had missed. She learned that she had Lyme disease-and finally had a breakthrough.
What she didn't know was that this diagnosis would lead her down some of the most excruciating years of her life before beginning her journey to recovery from eleven years of misdiagnosis and physical pain. She would need to find her courage to heal physically, mentally, and emotionally, and become the survivor she is today.
Set against the backdrop of the fast-paced fashion and entertainment industries, BITE ME shares the heartbreaking and hilarious stories that moved Ally forward on her journey from sickness to health. Its themes will be familiar to more than 300,000 Americans diagnosed with Lyme disease each year, many of whom, like Ally, wondered for years what was wrong with them. BITE ME offers readers hope and ideas for how one can transition from victim to survivor, and shares the spiritual principles and actions that have contributed to her wholeness as a human, mother, and international spokesperson against Lyme disease.